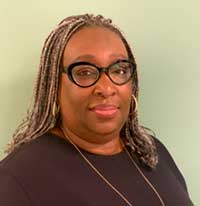 Ola Badamosi Deputy CEO focusing on employment and economic development strategy.
Who we are
PDT Employment is a dynamic team providing two employment programmes that support local people back into employment, training or education within West and Central London. Our home base is The Stowe Community Centre where we also have a job club area that is accessible once you are registered from Monday to Friday 10am to 4pm with the exception of Wednesdays when we open at 12.30pm.

Geographically we have members of the team based in different venues throughout the week – contact us for locations and times in the following boroughs: Westminster, Kensington & Chelsea and Hammersmith and Fulham as well as Barnet, Ealing, and Haringey.
PDT seeks to commission an External Evaluation
download the Arabic version of the leaflet below
What we do
Friendly confidential, one-to-one advice at times that are convenient
Help to create a CV
Support people to actively apply for work
Provide a fortnightly opportunities list with prospects from all sectors
Assistance with applications
Link you to full time and part time jobs that fit
Help you find the right training course
Find work placements to build experience and confidence
Help you work out how to become 'better off'
Help you manage barriers like childcare, travel and work clothing

Contact Us!
Find us: The Stowe Centre, 258 Harrow Road, London W2 5ES
Call us: 0207 266 8254
Email us: PDTESocial@pdt.org.uk
New grants are available for small organisations that offer employment and skills programmes. The awards have been funded by the ESFA under the Community Grants Scheme.