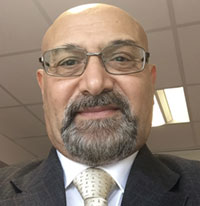 Hoss Malek
Head of Skills Training PDT
Welcome to Paddington Development Trust PDT Training. We offer accredited training courses in information and communications technology (ICT), childcare, teaching, Functional Skills, English as a second language (ESOL), employability skills and job search training.
Most of our courses are delivered online via Zoom, with some classroom-based learning too – this is called "blended learning". Our team is committed to our students' success and making their time with us as enjoyable and useful as possible. Our tutors are on hand outside of lessons, via Zoom meetings, and phone to support students.
We offer support to students with researching their career options and help them plan their next steps.
If needed, we help our students to improve their English skills, either before starting their chosen course, or alongside it (depending on their level).
Previous students have told us that training with us helped them in many ways, for example by:
Gaining useful skills and qualifications
Boosting their chances of earning more money
Keeping up to date with new regulations and new technology
Supporting their day-to-day life, such as helping children with their homework
Giving them more control over their future
Improving their health and sense of wellbeing
Increasing their confidence at work and in their home life
Helping them to secure a career
We look forward to hearing from you soon!
Please contact us for further information and guidance regarding our training courses, procedures, and available support.
For further information email us at training@pdt.org.uk
For complaints and compliments email us at feedback@pdt.org.uk
For appeals contact us at appeals@pdt.org.uk
Your safety and wellbeing at PDT Training
---
Browse our catalogue of courses below:
For further information email us at training@pdt.org.uk
Address: Stowe Centre, 258 Harrow Road, W2 5ES
Phone: 0207 2668 241