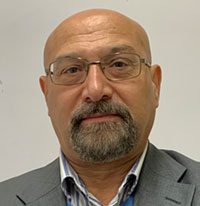 Hoss Malek
Head of Skills Training PDT
For further information and guidance regarding our training courses, procedures and available support
Please contact:
Hoss Malek hoss@pdt.org.uk
Mayette Esdicule mayette@pdt.org.uk
Somia Ibrahim somia@pdt.org.uk
PDT Training Continuity Plan
All PDT Training staff have access to their source documents, computers and other resources from both their home and office to deliver our activities. We have provided internet access, laptops and mobile phones/Sim cards as needed by staff. We have also given laptops on loan to our students to enable them to participate in our online delivery.We have created online application forms for potential students to enrol together with distance learning recording sheets to track student's engagement and progress. We are providing online IAG, learning support, English & Maths training and admin support for our students as well as admin and teaching support for our staff through using Share-Point/One-Drive to share documents/training materials among staff and communicating through MS Teams.
We are …
Speaking to students by phone and through WhatsApp on a weekly basis and setting targets for their work.
Receiving students work and giving them feedback by email on a weekly basis to help them to progress within their coursework.
Including BKSB (online English & Maths training package) within our weekly plan.
Using Zoom Pro to deliver lessons online. All tutors/assessors have access to Zoom Pro and have setup Zoom for their students.
Registering current students on Laser portfolios and providing them with their own online portfolio. This enables them to upload their assignments and build their portfolios for online external verification by City & Guilds. We will scan their existing paper based work and upload on their online portfolios.
PDT Training has experienced staff delivering accredited training courses. We are addressing local skill shortages and provide training and employment opportunities for the socially excluded and the local business community in information and communications technology (ICT), childcare, teaching assistant, employability skills, functional skills, job search training and English as a second language (ESOL).
---
Currently, we are delivering accredited training for 258 local people. Also, we are currently working with 32 nurseries in London, which are providing Employment/Work-placements for our learners.

ITQ's for IT Users

Level 2 Certificate for Children and Young People's Workforce

Early Years Level 3 Practitioner

Early Years Advanced Practitioner CACHE NCFE Level 4 Certificate
Level 3 Diploma in Specialist Support for Teaching and Learning in Schools
For further information, please contact:
Somia Ibrahim on 07377 131 640 / somia@pdt.org.uk
Paddington Development Trust, Office B, Norland House, Queensdale Crescent, London W11 4TL
Tel: 020 7460 6488